Our Story
You can trace the origins of this family-owned business to "SKOB home of the Bears".
When SKOB owner, Jill Pedigo, moved down from Naperville, Illinois to Osprey, Florida, she brought her love of the Chicago Bears with her. As that first football season rolled around, Jill and her father, "Jack Daddy", made the trek to a local sports bar to watch the Bears, but their game was on the worst TV in the place - with the sound off. It was during that game that Jack Daddy quipped "We should get our own bar so we can get a good spot." and the rest, as they say, is history.
Just a few days later, Jill and her husband, Geno, were sitting at a nearby beach bar and it just happened to be for sale. By the end of football season, Jill had convinced her sister, Beth, and Beth's husband, Keith to partner with her and Geno to purchase and actively manage the Siesta Key Oyster Bar.
Now, every Sunday during football season, the Siesta Key Oyster Bar transforms into a sports bar where the Bears are on the best TV in the place – with audible play-by-play.
Join our extended family for some award-winning food while you sip on a craft beer or an island-inspired cocktail and see for yourself why SKOB is the place to be on Siesta Key!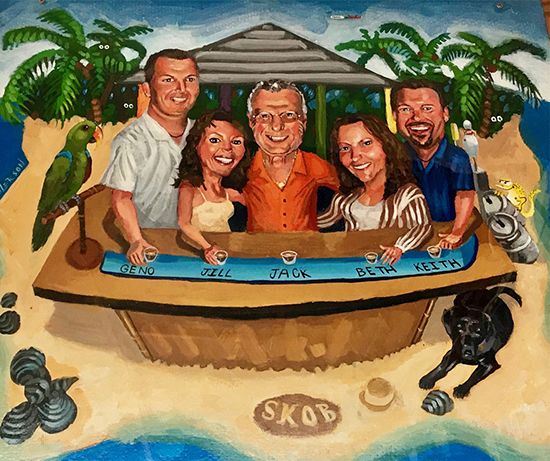 The Experience
Chef Jesse continually adjusts our menu to incorporate the freshest seasonal ingredients and our dedicated staff, headed by General Manager, Samantha Lemmer, are committed to providing the best experience and making you feel like you're part of our family.

We work with local distributors to acquire nature in-season finest. We continually source pesticide-free and sustainably-grown produce when possible, providing the very best at all times.

Chef continually adjusts our diverse menu to utilize seasonally available ingredients.

Our menu is crafted to achieve the best results and our teams will recommend options to suit your taste, we are what we eat #SKOBlife.
Our Passion for Quality...
SKOB strives each and everyday to give you the best entertainment, a comfortable setting, great service, excellent food, a cold tasty beverage.
Our goal is to be the best on the Key.
Though we know something may not be to your liking, Managers are available to hear your concerns and act upon them.
They would like to take care of the situation now, rather than later.
They also like to hear the positive comments! If they haven't been by yet, ask for them, they will be glad to meet with you.
Most importantly, we want to ensure your experience with us is the best on the Key.
We love hearing comments that "SKOB rocks, and we will be back!"